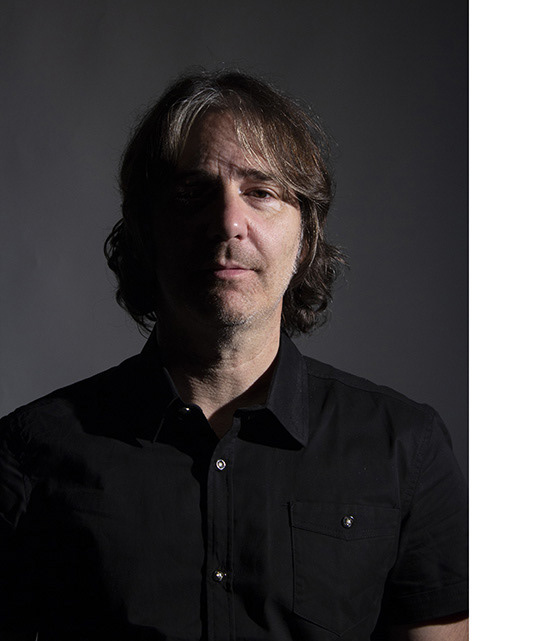 "We must destroy time to become one with it." – from

La Valée

, a film by Barbet Schroeder
These works document and establish a symbology of music subcultures (60s/70s rock, Heavy Metal, Punk, Grunge) and document music's "humanity". They also provide a means to investigate and meditate on the nature of time (inspired by Buddhist philosophies) and situate music, and the music experience, in terms of its own sense of the spiritual.
My recent works emerge from a fascination with nostalgia, and particularly, music's power to evoke intense memories of the past. The road case, a vehicle to transport music gear from one place to another (and a reference to my own past/present/future as a lifelong musician) has been used as the vehicle to instead travel through time. The elements of Rock subculture fashion provide material to construct these memories—denim, leather, pinback buttons, patches. Symbols of the tools (the "axe") and equipment become important graphic elements in this language. The pieces embrace the desire to live free of time and reject the inevitable changes over time that can be brutal and disquieting. I am interested in the fact that along with these music subcultures, there always exists a search for a new existence that goes along with it. Experiments with LSD to search for higher planes of consciousness and destroy the ego, rejections of traditional societal structures and commercialism in the quest for a new way of living, an establishment of a new "faith" in which the concert hall becomes the cathedral.
Van Arsdale received an MFA from the Meadows School of the Arts at Southern Methodist University and a BFA from the University of Texas at Austin. He is a creator of mixed-media artworks and installations, and has exhibited widely since 2001. He has shown works at venues including Museum of Contemporary Art Santa Barbara, University of Texas at Dallas, Brookhaven College (Dallas, TX), TSA LA, Blue Star Art Complex (San Antonio, TX) and University of LaVerne (CA). Van Arsdale is an Assistant Professor at Santa Barbara City College and is the Chair of the Fine Arts Graphic Design program. He is also the co-founder of community art studio collective The Can(n)on. A life-long musician, Van Arsdale has recorded extensively and performed music throughout the United States with a variety of groups, including The Coral Sea and Heavy Cosmic Kinetic. He lives and works in Santa Barbara, CA.
NOMAD,

Torrance, CA (Curated by Max Presneill)


Music to My Eyes: Rob Grad and James Van Arsdale, Torrance Art Museum, CA


#TakeMe

, interactive on-site in Berlin & Prague. Pinback buttons were left in locations tagged #TakeMe.


Astronauts of Inner Space

, Arts Fund, Santa Barbara, CA  (Curated by James Van Arsdale)


Imaginary Selves

, University of La Verne, La Verne, CA


(Safe Inside My) Green Zone

, Museum of Contemporary Art Santa Barbara, CA (solo)


The Glory Solution

, Cactus Bra Space, Blue Star Art Complex, San Antonio, TX (solo)


The Can(n)on Group

, Arts Fund Gallery, Santa Barbara, CA


AOKOA

, TSALA Gallery, Los Angeles, CA


The Fabric Show

, TSALA Gallery, Los Angeles, CA


Everything You Hear Is True

, Left Coast, Goleta, CA (solo)


James Van Arsdale

, Brookhaven College, Dallas, TX (solo)


The Can(n)on

, Atkinson Gallery, Santa Barbara City College, CA


Eating Apples in Paradise

, Museum of Contemporary Art Santa Barbara, CA


Color System, Color Strategy

, University of Texas at Dallas, TX


Time & Memory

, Westmont Museum of Art, Montecito, CA


Open House

, MCASB Satellite @ Hotel Indigo, Santa Barbara, CA


Anxiety

, Pump Project Art Space, Austin, TX